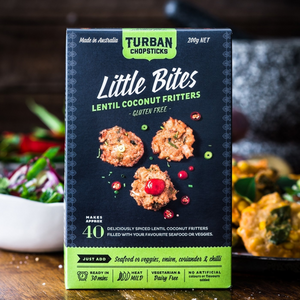 Turban Chopsticks
Turban Chopsticks Lentil Coconut Fritters (200g)
Regular price
$13.90
$11.90
Tax included.
Lentils and coconut join forces to be mixed with your favourite seafood or grated veggies to create little bites that will delight friends, family and guests!
Made out of a base of dhal, maize, potato and rice flours, our Lentil Coconut Fritters are made even more delicious with spices, salt, black pepper and chilli.
Mix, quickly shallow fry or bake and serve as fritters with your favourite sauces to bring a happy, satisfied smile in everyone's tummies!
---
Share this Product
---
More from this collection